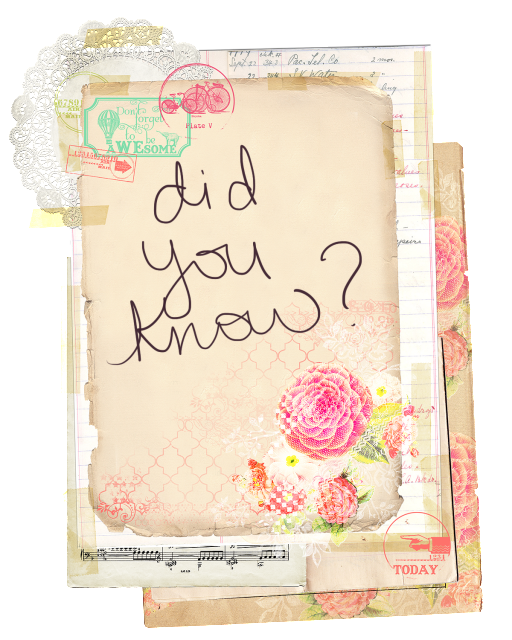 March 25th was my Dad's 62nd birthday!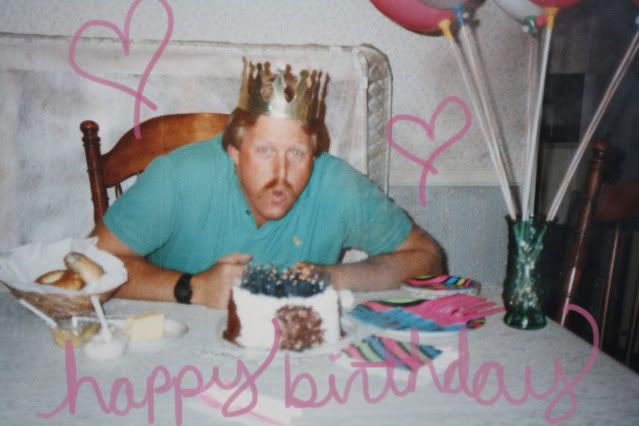 We celebrated by going to his most favorite restaurant that he frequented (sometimes going in twice a day). One of the waitresses I met for the first time when my dad was in the E.R. when he'd had the stroke, and then she visited him several times in the rehab center, and she was at the hospital the day he died too. So I wanted to go in and see her, and then all the other employees came over and told us how much they loved my dad and they were so happy to meet the grand-daughters he'd talked about all the time. Even the chefs wanted to show their fondess of my dad, by sending over little strawberry shortcakes for the girls after we'd finshed our breakfast. It was so nice.
In other news: The weekend before that I was shopping at Target, determined to ONLY buy the things on my list (I am always determined to do that and it never happens), when I saw something I desperately needed: a new duvet cover set w/ shams.
The last duvet cover I got was from Target, and I loved it so much but it just got ripped all to heck. I sewed it up several times, but eventually it was just a lost cause. So I'd been on the hunt for a new one, but Target didn't have that same print anymore, and I hadn't ever seen any nice prints there, I checked Macy's and Ross and JC Penny etc etc, but nothing was what I wanted. I've said before how much I love my down comforter, so sleeping under it without it being in a pretty cover like it deserves was bumming me out.
Then I walked into Target and there was this beauty, sitting there on the clearance rack all by it's lonesome! On sale and looking all pretty. It was, however, two sizes too big. It was a King! But I couldn't get a smaller one, cause like I said it was on clearance and it was the only one. So I got it anyway, hoping it would work (how much bigger could a King actually be? I'm a size 9.5 shoe, and sometimes I can wear a 9 or a 10, so it ought to be the same). I got it home and tried it out and it was WAAAAAYYYY too huge. The poor comforter got completely swallowed up and lost inside of it, and it hung over the bed and onto the floor and it was ridiculous. BUT I cut it up and sewed it and now it works perfectly and I love it with all my heart.
When I googled it, before I cut it up, to try and see if I could get a smaller one online, I realized that the print was called "shabby chic hydrangeas" and then I KNEW why it had been love at first sight.
(I had yet to iron it, hence the wrinkles)
But doesn't it just
scream
"hit the snooze button and oversleep"? To me it does. So plush & comfy. I have hit the snooze button and overslept every day since I've gotten it.
Also: I planted some yummies!
(Side note: I was going to write: "the good news is I planted some yummies. the bad news is they all died while we were on vacation". And that reminded me of a few weeks ago on a Friday when I picked the girls up after work, and I tried to break some bad news to them using that same method. I said "the good news is you don't have to do your chores tomorrow because we'll be busy all day! the even
better
news is that we're going to do them tonight instead!". Mallory grunted, Arissa rolled her eyes and then got to work, and Mariah threw a fit like you wouldn't believe that lasted well into the night. Needless to say I've been careful since then of how I use my "good news, bad news" technique.)
Anyhoo, my plants: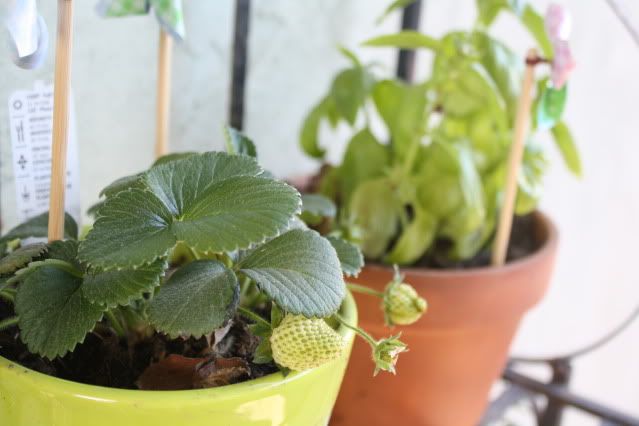 like I said, they all died. So now I have to replant & it saddens me. Apparently strawberries and tomatoes and this
particular
basil are real sensitive, because the cilantro, basil, & jalipenos that I have growing in a different area all survived our absense during our vacation and are growing like weeds.
And finally: I've devloped a recipe for the most delish pizza ever ever ever, in my taste & opinion.
I get some yeast rising, make the dough and roll it out.
No marinara, but a little drizzle of balsamic:
And on this day, just because I was feeling fancy, I added some of this: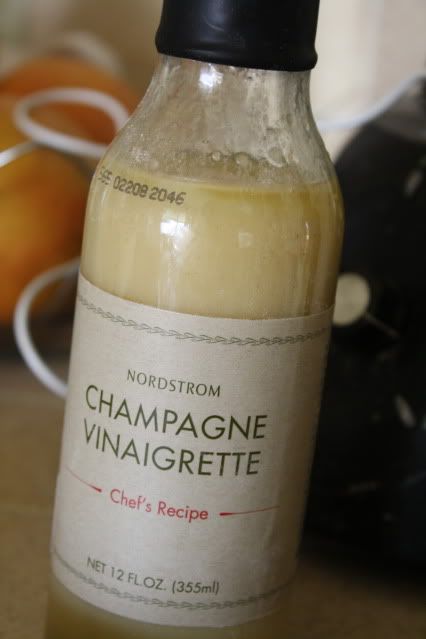 I sent Mariah out to get some fresh basil:
Those are the jalipenos she's reaching for....the basil's on the left. She eventually found it. Except I love basil and I realized that to have enough for the two pizzas I was making would leave my little basil plant bare, so I added some store-bought as well:
Sliced up some romas:
Added the cheeses! Just a
teeny
tiny sprinkling of mozarella, but
mostly
feta:
And if I want it to taste extra yummy (which I always do) then I add goat cheese also (can't tell the girls it's called "goat" cheese if I want them to eat it):
It looks SO pretty when it's all ready to be cooked: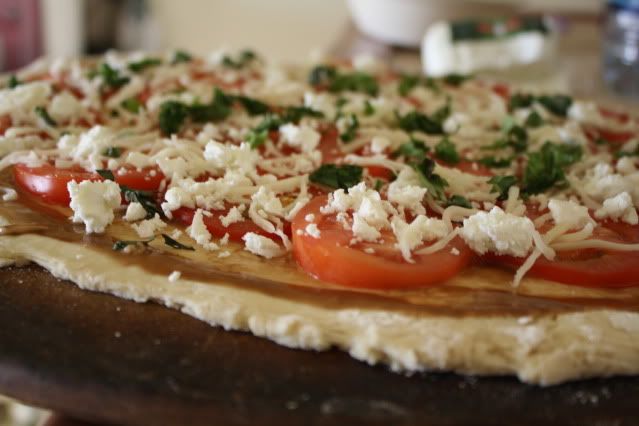 Made a separate one for the girls: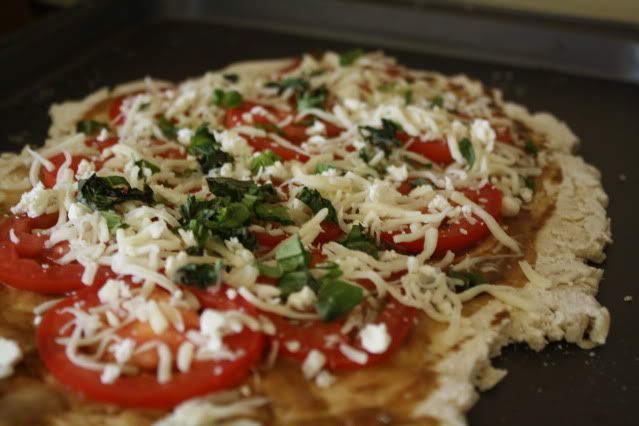 This was the 2nd time I made it, and the first time I didn't use the balsamic or the champagne dressing or anything, I just put the toppings down on the bare crust. And I think I prefered that taste better.