....it sounds like the title of an episode of Oprah or something.


It's not.


It does, however, sum up how me & the girls spent most of the frantic week before Christmas break.





I made 150 gingerbread men again this year....I don't know why last year it seemed so easy and this year it felt like I was making 15,000 of them.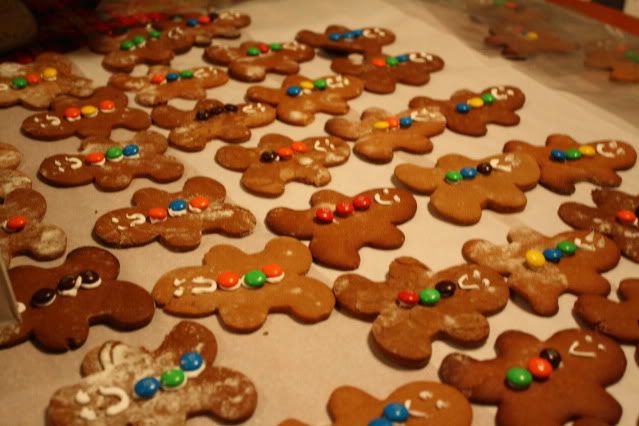 Last year I outlined them with frosting too....this year it was all I could do to get them baked.



Mariah could see my strength (and interest) was eventually beginning to fade so she took over the role of putting the men's m&m buttons on. At one point she accidentally put the buttons on one of the men's eyes by mistake, and then she and I laughed about that for a good 10 minutes. I'm pretty sure we were delirious. :)






It's a process: baking one day, frosting the next day, packaging the next day. It was also the week of my and my nana's birthday, and it was just hectic. But I got them done and the girls were happy to hand them out to their classmates.


Arissa was really worried that her friends (being big old 5th graders) might not appreciate the cookies. She said what if they don't want them? What if the boys are mean and break them? She felt sad for me and all the work I put into them. But I told her not to worry about me, that the mean boys can do whatever they want to the gingerbreadmen, the point is that she was handing out Christmas gifts to spread cheer and whatever happened to them after they left her hands is between the receiver and God.


Yeah, I got all dramatic like that. :)










Then another day I made some more men (cause I'm also crazy like that) and the girls decorated their own.










Mallory doesn't mess around, she's a highly focused, precision cookie decorator: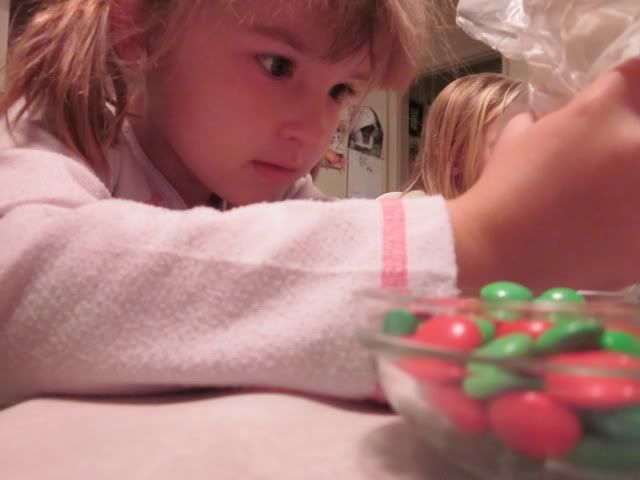 Arissa thought she was slick but she didn't know that as I took a picture of her gingerbread man, I also caught her sucking some frosting out of the bag. Mm hm: