...Mallory Mae Howard loves to sleep.

Jesse says she must learn & play HARD at school, because by 7pm she is exhausted. She puts her jammies on almost as soon as she comes home, without being asked. If I get busy with something around 6:30 or 7 and she's left alone, when I check on her after just a few minutes she'll be sound asleep.



That's what happened the other night, and when I went to wake her up (because she hadn't brushed her teeth and still needed a bath), I saw that she'd gone to bed with all her school clothes AND her shoes on! See what I mean? That girl gets TIRED.

She loves sleep "accessories" too, blankets and stuffed animals and soft music......and sleep masks. When her sisters bought new outfits for their American Girl dolls, she bought a sleepover kit. It came with a teeny tiny sleep mask for her doll. Then she took the one I had been using for myself and they were quite a pair: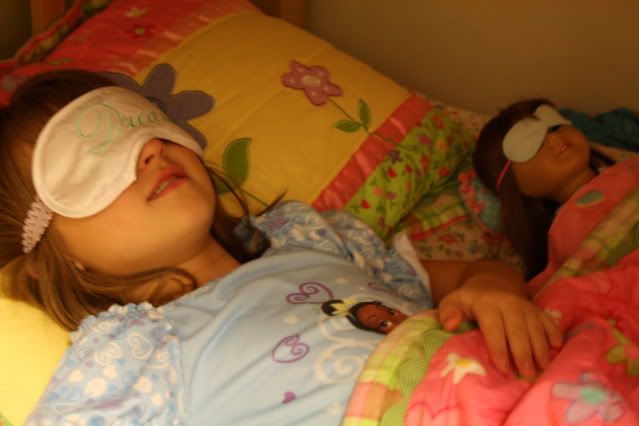 (She's not really asleep in that picture, can you tell?)
And she really liked the one that I made her. I made one for all 3 of the girls but she was the one who used it the most:
(She is really asleep in this one)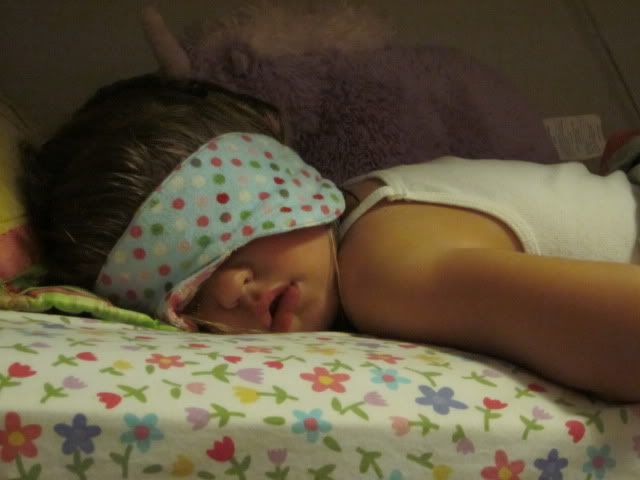 I don't know how the girls can't stand to sleep with them on. Especially because the ones I made are flannel, so yes they are soft but they also cause the girls to wake up with sweaty, pink faces. I'm glad they use them at least!