Last Friday was so much fun!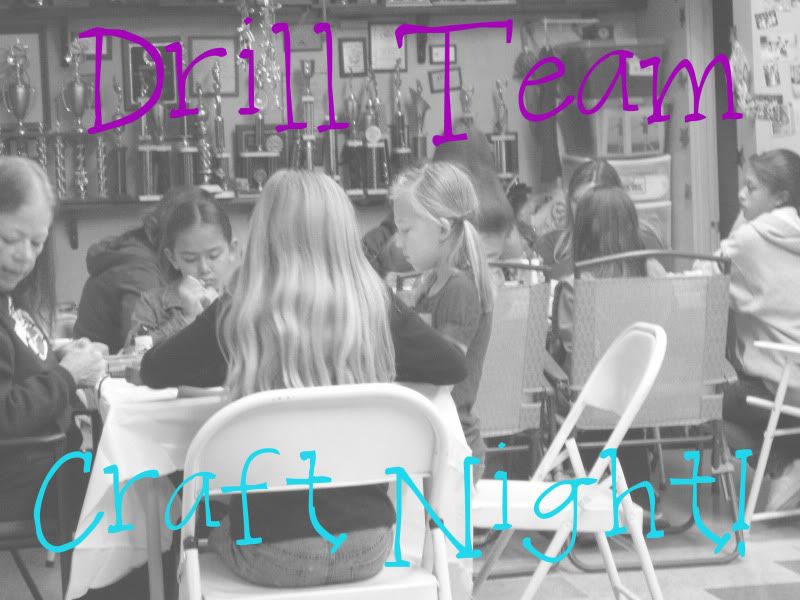 We had a craft night with Arissa's Drill Team. We spent 4 hours in the studio, 3 of the parents (plus Sherry) offering a different craft to make. The girls got into small groups and then went around to each of the different "stations".
We also had lots of good food, and lots of laughs. :o)
Arissa, Vanesa, & Olivia ("the trio"):
Hard at work:
For my craft, which I agonized for days over what the heck to make (and changed my mind 4 times), I did a "memory jar". The girls decorated a glass jar, wrote notes to or memories of each of the girls in the group, and then took home a note from each girl to them in their jar. An idea I got from a Valentine's gift that Jesse gave me a few years ago, which is still so much fun to look through.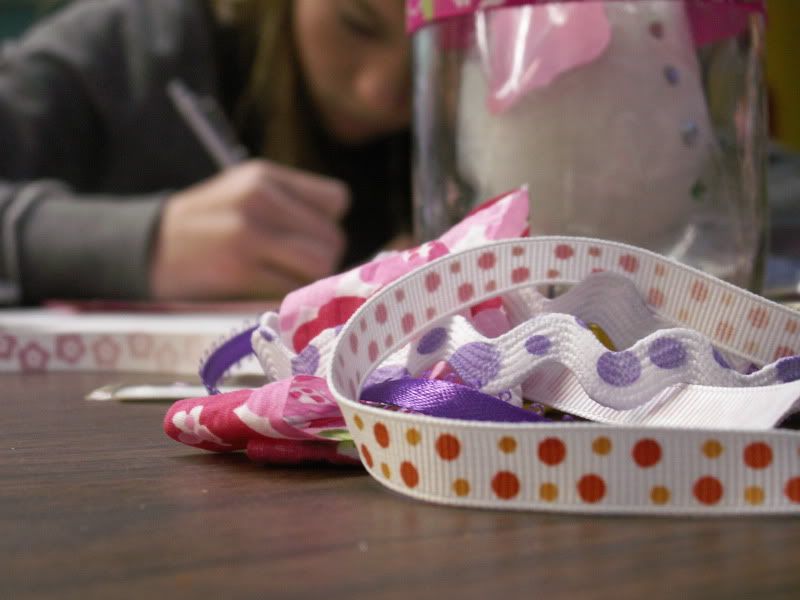 I made a jar for myself before hand, to have an example to show the girls of what they were making: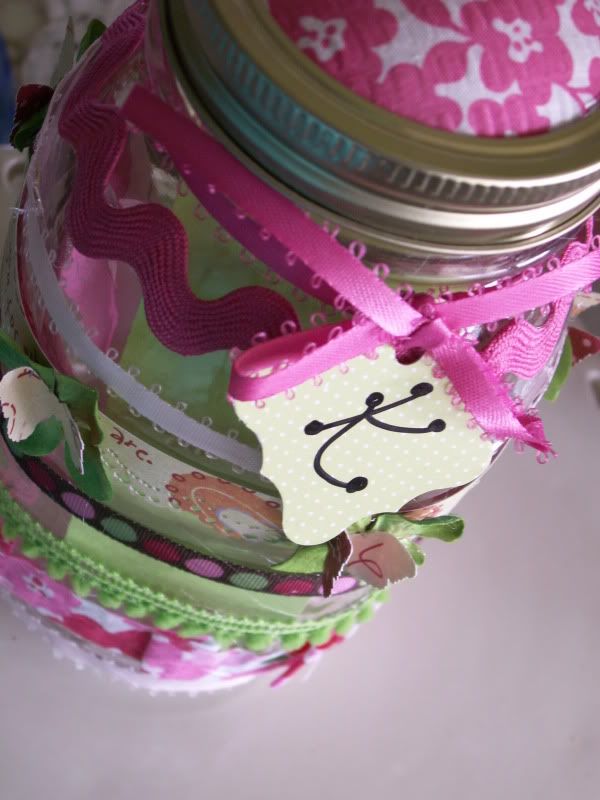 my example of what kind of stuff to write on the notes: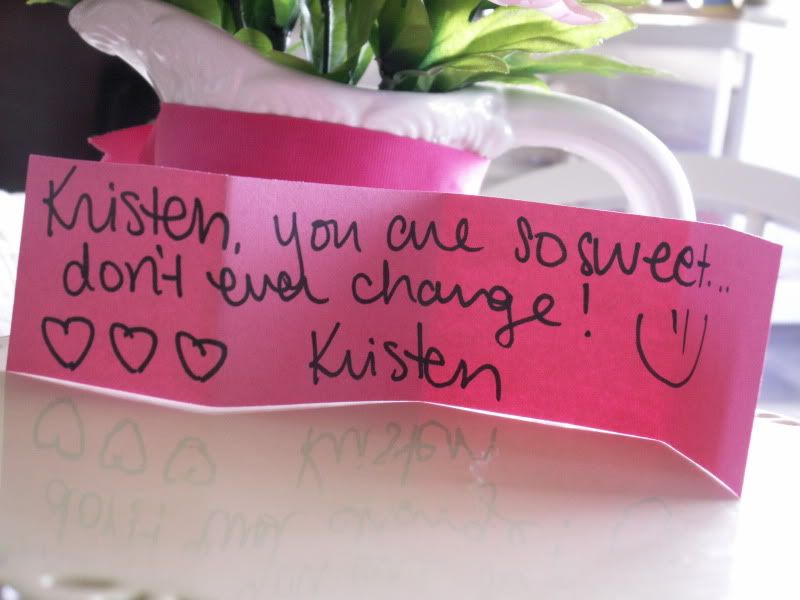 I ended up with a jar full of notes to myself, from myself. :o) And embarrassingly, I still had fun pulling them out and reading each of them. That's sad, I know.
It's okay. In the end, I did end up with two notes that were not from myself. One of the girls wrote one to me after she was done with all of hers, and Andrea (my friend & DT super-mom) wrote me a nice one too which I will keep forever and ever. :o)
Me and this sweet little DT sibling took a break to have fun after she'd made her jar...
I used my Martha Stewart butterfly punch to punch out 'lil bitty butterflies, and they kind of jumped out as my little friend tried to catch them:
See the jumping butterfly??
There it is!:
Fun fun fun.
So the girls all came home with a memory jar, an awesome stamped pin (made out of a domino), a cute little keepsake box that they decorated: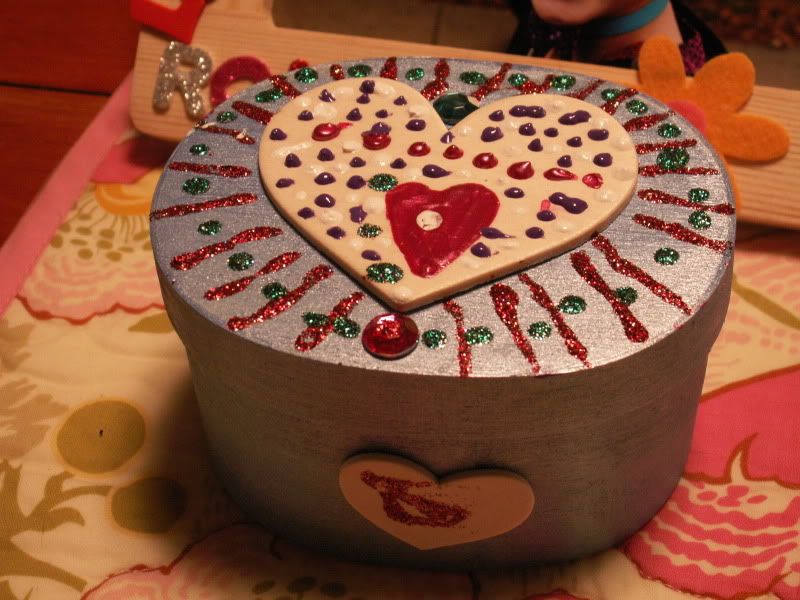 and a frame they embellished: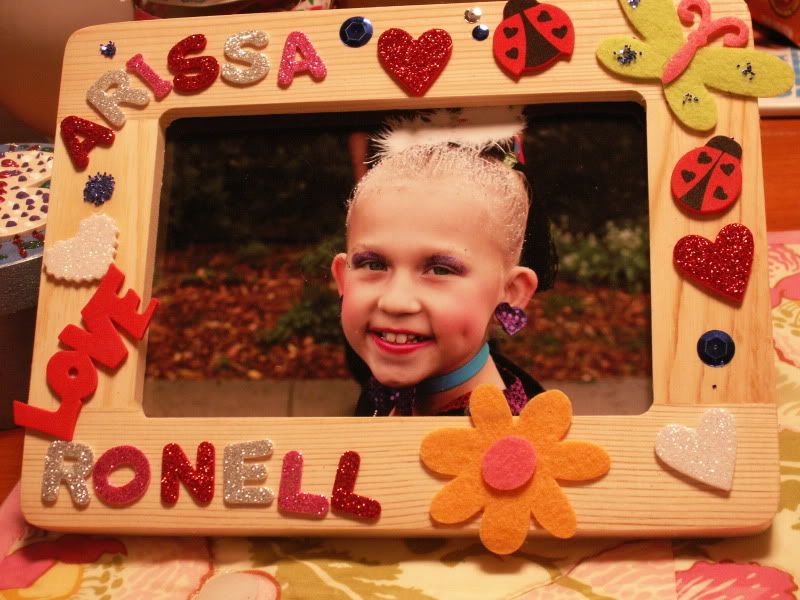 Are they cool or what??
Did I mention already how much fun it was?
Those kids are so sweet.
You should see those notes they each wrote to one another.....I wish I could have kept a copy of each single one of them. So so sweet and kind and encouraging and happy.
I love those girls.