This past week I've been soooo busy at work.
Nothing to do with my actual job though. :o)
I've been working on a project for my Grandma: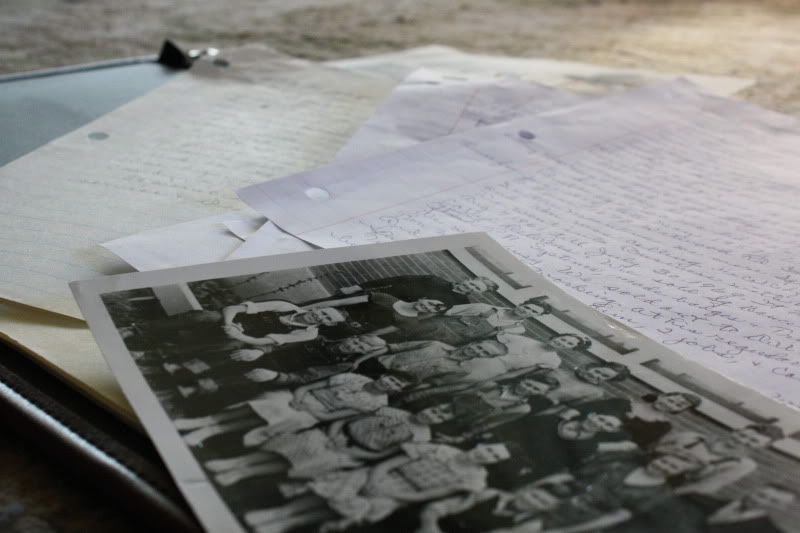 I'm typing up the memoir that my Grandpa wrote (he died in 2000, a month before Arissa was born).
I've spent every spare second (before work, on my breaks, on my lunch...) working on this thing, and I've been having so much fun (even though my hands ache after 30 minutes of straight typing).
It's fun because it's like a history lesson...about how things were in 1919, how the Great Depression affected my Grandpa and his family, and about WWII as well. But mostly it's fun because as I type it up, I can hear my Grandpa's sweet voice---but not in the delusional-hearing-voices kind of way. I mean in the way he's written it, I can remember the way he used to talk, which I've forgotten. I do wish though that I could have been working on it while he was still alive, because there's a lot of things I would like to ask him follow-up questions about, or things I would like to have him explain further. But something is better than nothing.
And the best part is reading about how he met my Grandma and how they got together. I just love it. I've told my Grandma that if she leaves me nothing else when she dies, the one thing I do want is the box of letters she has that my Grandpa wrote to her from world war II. I asked her once to let me see them but she said they were private, and that I could look at them all I want when she's dead and gone and I can't tease or make fun of her. How cute is that.
This is me and my sweet Grandpa...and a super big loaf of bread. Don't know the story behind that. :o)