My sweet little tiny baby turned 6 last weekend!
So for the next couple of weeks, I get to say I have "twins". Because Mariah and Mallory are both six years old, until Mariah turns 7 in June! M&M get a kick out of being the same age for a few weeks.

I sure hope Mallory & her guests had a good time at the party. It's kind of hard to tell until you look back on it all, whether the party was a success or not. Mostly cause when I'm directing the games & snapping photos like paparazzi, it's hard to be in the present moment and just take it all in!


But when I looked back on the pictures, and I saw little smiles on the faces of Mallory & her friends, I felt pretty good about it.
We played games with a "Princess and the Frog" twist....
Hot potato became "Hot Tiana" (the princess & main character):
"Pin the tail on the donkey" was turned into "Pin the kiss on the frog":
The kids got together and added another game, although they didn't add a Princess/Frog twist to it.
"Duck, Duck, Goose".
When picking the party games, Jesse and I had considered that one----although we were going to make it "Prince, Prince, Frog". :o) We didn't use it in the planned party games though, because I was tried very hard to find games that wouldn't have a "loser" or someone who ends up being "out". But it was okay and the kids had fun.
"Musical Chairs" became "Musical Lily Pads", and ended up with everyone sitting on ONE lilypad, which looked something like this: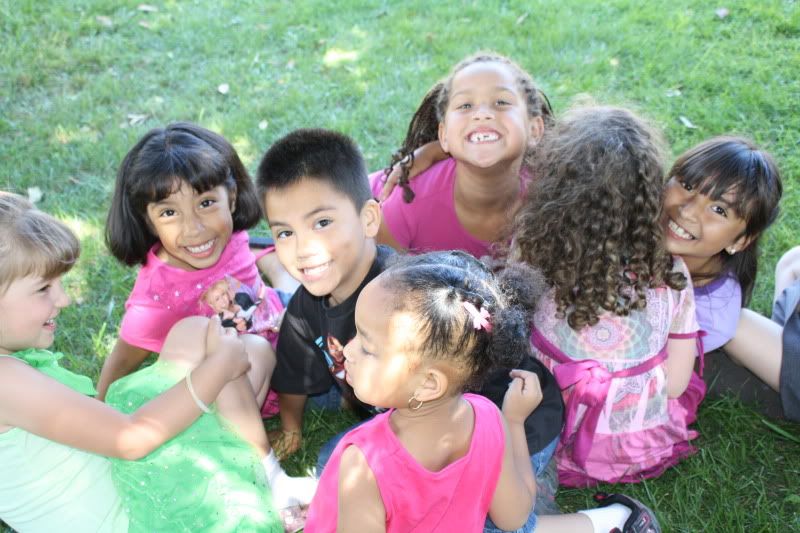 I assumed that spray painting the "lilypads" (pieces of posterboard) on our lawn would be wise, and wouldn't leave a trace. Green on green. I was wrong. :o)


Fishing for prizes was "Bayou Fishing", which we had a parade to get to and marched to Mallory's favorite song on the Princess & the Frog soundtrack.
The kids "fished" for little things to put in their goody bags (Vanesa assisted):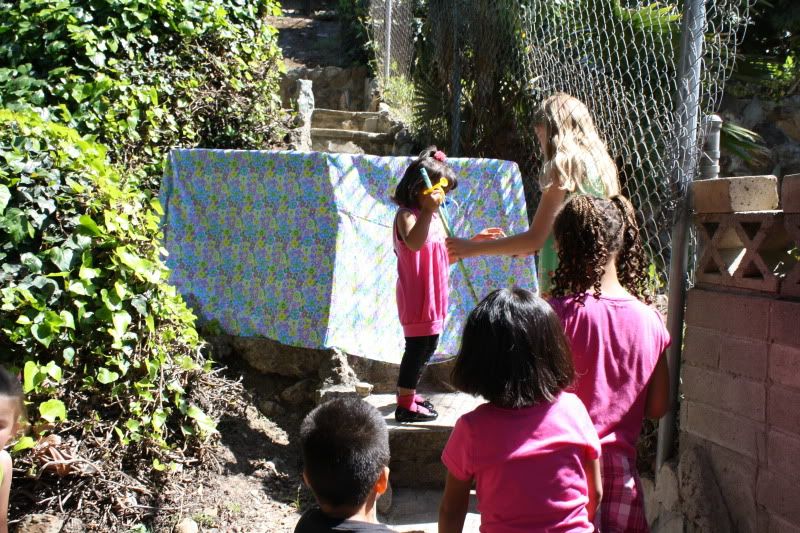 Fun times!
Mallory was so happy to see each guest show up. Family, friends, and friends from school, she was exctied to see them all.


I had made the decorations a month in advance, and these pretty little things were hanging in my kitchen the whole time. At first they were a little obtrusive, but then I got to used to them and the airy feel they gave the room. Now that they're gone, I miss them!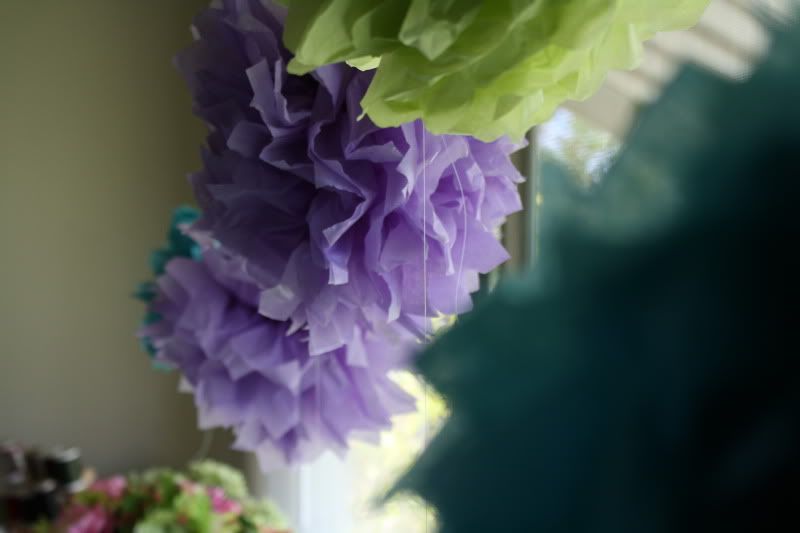 I also nearly died hanging them all up, standing on my grandma's rickety step-ladder, staring straight up above my head into the sun, and trying to tie little knots out of the sewing thread I used to string them. Just looking up made me dizzy, and I was hoping if I fell I would land softly so I could wait to go to the ER till after the party. :)
After our guests left, Mallory opened her gifts from us.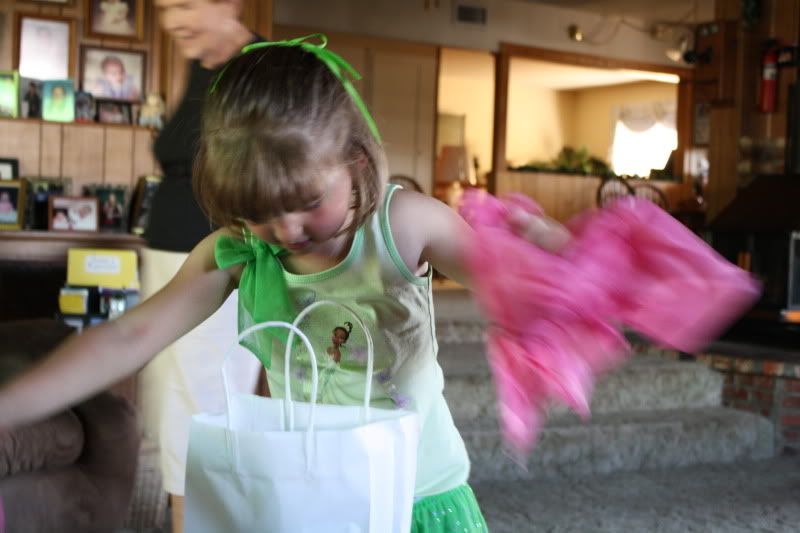 Jesse and I got her a reversible (two-in-one!) Princess & the Frog bathing suit and cover-up:
As soon as I walked into the Disney store to look for a gift, I knew I wanted this thing. It's so pretty, and really good quality.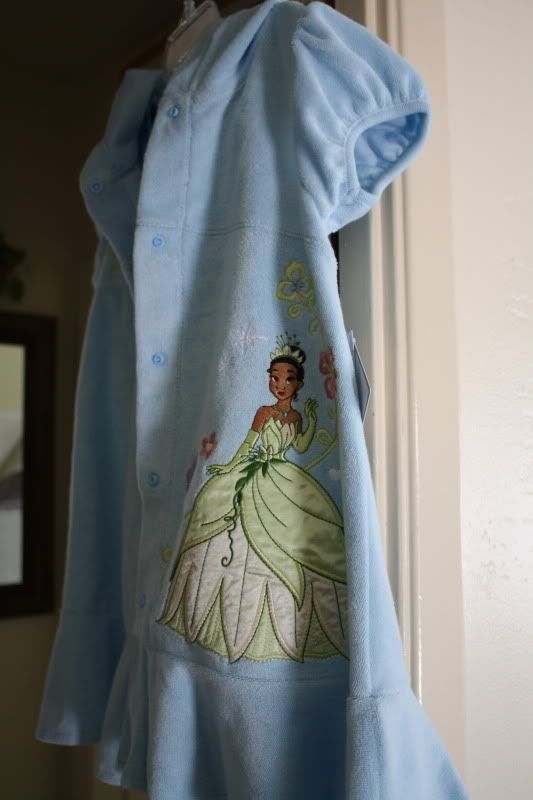 Her sisters got her:
* some cute little Princess & the Frog sandals
* a set of 4 Princess & the Frog books
and: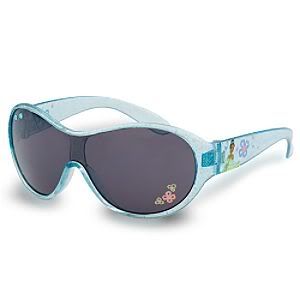 ...which one of her little friends at the party gave her too, so we let Mariah keep them. So now they match, and it's even harder to tell them apart when they're both wearing them!




It's so cute to see Mallory sleeping and the frog's little head poking out from under the covers. :o)
I spent a good chunk of mothers day helping Mallory write her thank you notes.
If I don't get them out the very next day, I feel really uneasy. We got all but a few (which needed a photo reprinted or a complete address so we can mail it) in the hands of each of her guests.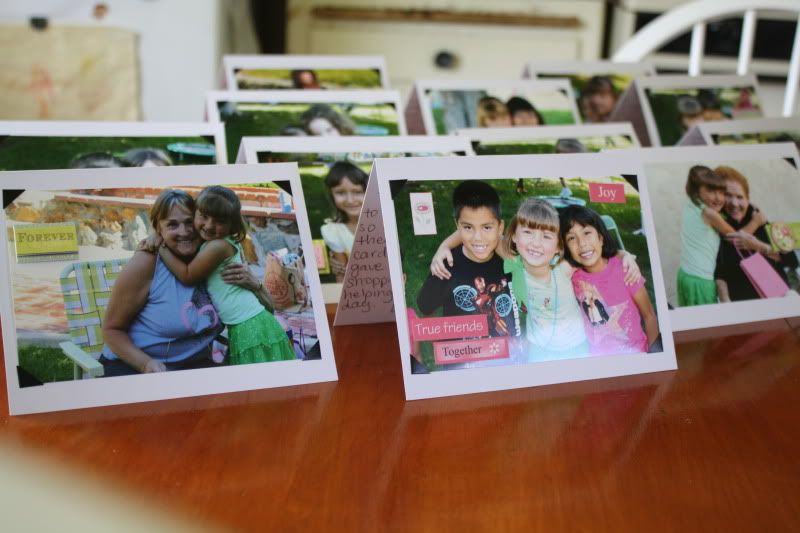 I had so much fun planning the party, and buying her gifts, and decorating for the party, and cleaning up after the party, and making the thank you notes, and sending them out. But I admit: I was mentally & physically pooped! But out of the blue Mallory said "Mama, I liked my party. I will remember it forever." And that made me smile and feel glad, and gave me the inspiration to get off my bum and start planning the next one (for Mariah)!