As I said before, I've been planning 3 parties at the same time for the past 2 months basically. If I only focused on one at a time, there wouldn't be enough time to get stuff done for the next one.
After we saw Alice in Wonderland back when it came out, we decided to do that for Arissa's theme. Soooo many ideas!
For the invitations, I wanted to do something along the lines of "Eat Me" "Drink Me", like in the movie. So we spent hours, Arissa Jesse & I, trying to figure out how we could do it.
This is what we came up with:
I found that plain ding-dongs (with no icing at all) made perfect little cakes, just like in the movie.
I wrote on the cakes as small & neatly as I could, and I was so relieved that it didn't turn into a big pink blobby mess.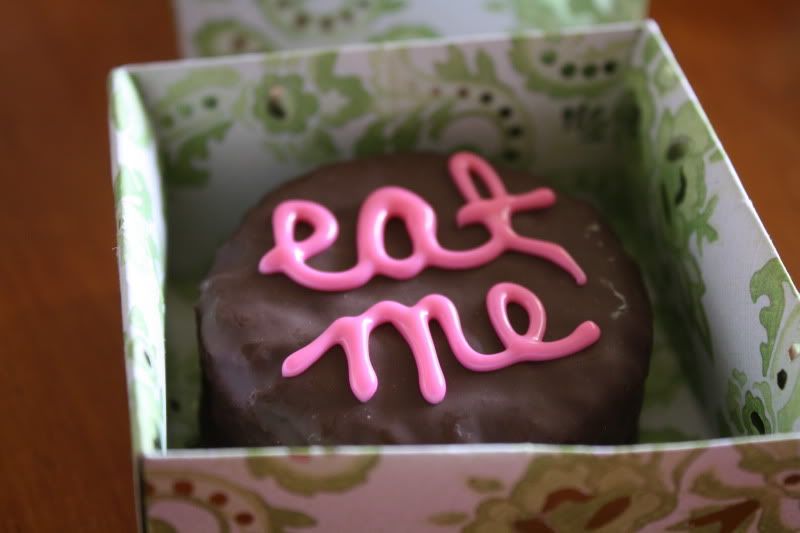 I had searched all over for individual cupcake boxes and in doing so, I found out they're a bit pricey and also too big (since they allow room for generous frosting on the cupcakes, which these didn't have). So I found an oragami pattern online and made the little boxes myself: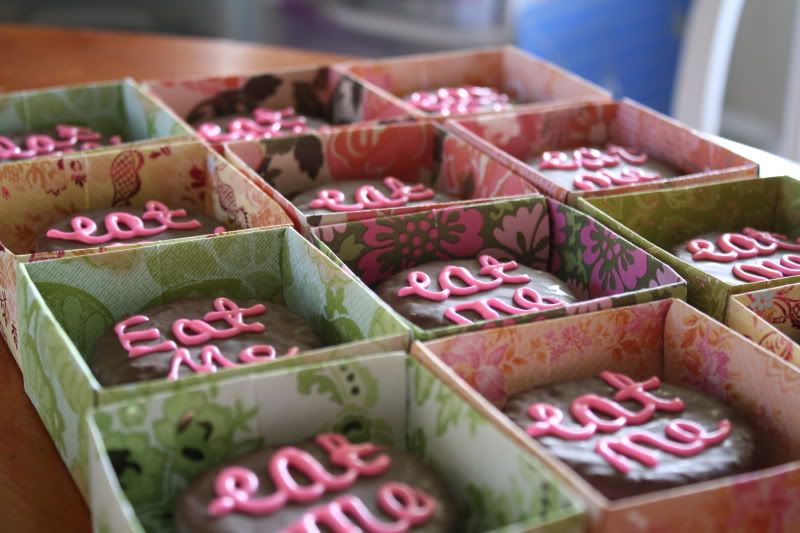 We were going to just do the cupcakes, but couldn't figure out how to include the party details (what, where & when...the important stuff) with it. So we put the actual paper invitations inside accompanying "Drink Me" bottles:

Everything turned out just like I wanted it; I was so happy. I hate having to give in and do something less than I'm imagining.
It's actually kind of silly, how much time Jesse & I spent talking & debating & emailing & pontificating over how we could do these invitations. Just the invitations! You don't even know how much time and energy we've spent discussing the actual party! :o) But that's us.
I should have recorded all the time actually, as if we were doing it professionally, and calculated the cost. Then send Arissa the bill in 10 years. :o)