My sweet baby girl turned 7 !
And enjoyed a sweet little cake:
With sweet friends, of course:
...and a bean bag toss:
It was a lovely party. The coastal clouds rolled in about halfway through, which made the temperature just perfect. Mariah was so happy to have her friends and family there, and to be the center of attention.
Up until the actual party, things had been kind of a whirlwind.
First planning and having Mallory's party, then working on Mariah's, as well as our 10 year anniversary dinner, plus planning Arissa's birthday party at the same time since it's in just 2 weeks, plus working on end-of-year teacher gifts....there hasn't been any "down" time at our house since April! But at the party I was able to sit back and relax a bit, and watch Mariah soak up every second of her special day.
Lucky for her, her special day lasted more than 24 hours.
The day before the party, I sent a goody to school with her as usual. Since you can't send snacks or treats anymore, I sent a book all wrapped up with a bow that she could open in front of the class and the teacher would read to them. Thankfully, my girls are happier with a book than they would be with cupcakes.
I also make each of them a "crown" to wear at school when they're opening their gift (and I think the class sings to them as well).
Mallory's crown was purple & green (going with Princess & the Frog theme), with fabric from the banner I made as a decoration for her party ruffled along the bottom of it. Then I embroidered "Birthday Girl" on it.
When I first got the idea for these crowns, I intended to make each of the girls one that they could pull out every year and wear again and again. But then, like an idiot, I put "I'm 7!" on Arissa's that year (cause she was turning 7) and then realized she couldn't use it ever again. M&M could have, but I didn't want the crowns to be hand-me-downs. They get enough of those.
So every year since I've just made new ones.
This is the one Mariah got this year. No room for embroidery, but I think she looked cute in it just the same: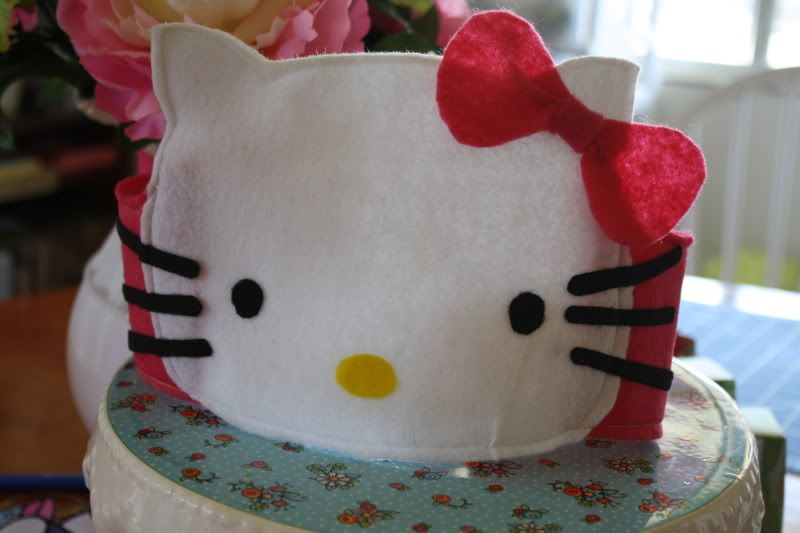 stay tuned for part 2!