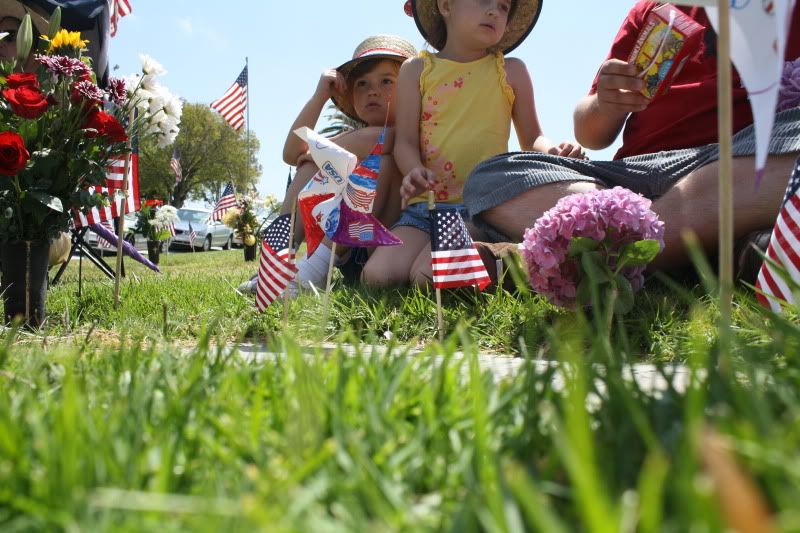 The weather was soooo nice on Memorial Day. Sunny skies but not hot at all. So we spent mostly all day outside.
We went to the cemetary with Grandma and decorated Jesse's Grandpa's headstone with flags, flowers, and handmade pinwheels that the girls made. We had some snacks & took some pics and enjoyed the nice day. I brought some bubbles to blow cause I thought that'd be nice, but there was a vitenamese family directly down-wind from us and the bubbles blowing in their faces seemed to kind of cramp their style, so that didn't last long. :o)
For dinner I had planned on Spinach Lasagne....but that didn't seem American enough for us on this holiday, so we scratched that plan. I handed dinner duty over to Jesse, who specializes in traditional, fatty, yet super yummy American dishes.
And so he promptly announced the menu: BBQ.
Pinwheels made an appearance again (first on Jesse's Grandpa's grave, and then as decor for our oh-so-American desert):
The girls enjoyed the treat of eating outside, and eating the usually forbidden hot dogs:
Mallory wanted to put her pinwheel in her cob of corn, but found that it was kinda distracting:
:o)
Fun fun fun & perfect weather.
I only hope & pray that we get the exact same weather for the 4th of July!
And the two parties we have planned in the next 2 weeks!
And for August & September too!
That's my order to God as far as weather goes. Crossing my fingers.