I only made a small part of this first one, but it ended up being my "christmas miracle" and here's why...
I found this beautiful ornament online that said "____'s first Christmas" that I wanted to give to my cousin's brand new baby for Christmas when they drove down for Christmas Eve. I ordered it barely 2 weeks ahead of time, I told the seller the baby's name (Cassidy), and crossed my fingers it would arrive before Dec 24th.
It came in on the 23rd! Just in time.
I opened the box and was in awe! It was so beautifully made, it was lovely to look at, it was personalized, it was unique. I loved it and was totally excited to give it to my cousin.
I brought it over to my Grandma's to show her the perfect, beautiful gift I had found.
She looked at it and smiled, and then after a pause said:
"does she spell it with a 'C'?".
!@$%$
How else could someone spell "Cassidy"? It had never even occured to me or crossed my mind that there might be a different spelling. But fine, maybe it starts with a 'K'....so I start racking my brain, how the heck am I going to change the "C" to a "K"? It'll be hard but there's got to be some way. I asked my Grandma to call my cousin and find out how it's actually spelled. She did, and she tells me it's: KASSADI.
Again: !@#%$
That's not even close to what's on this beautiful handmade ornament, and it's nothing I can even attempt to fix. I was so bummed.
I contemplated just giving it to mu cousin anyways. Let it be the first of many things for that baby that end up spelled wrong because they chose such an unconventional spelling (oh-- I was also a little bitter). :o) But I decided no one wants something with their kid's name spelled wrong....Cassidy isn't their new baby,
Kassadi
is.
I also contemplated giving it to them, then re-ordering it and having the correctly-spelled replacement shipped directly to them. But that would have spoiled the specialness of it, and it would have arrived in January when they've already put all their Christmas stuff away. No good.
So I decided I'd just throw it away and pick up something at Target for the baby. Again, I was really bummed. Night ruined.
Sitting at the table, I figured since I was going to throw it away anyways, I might as well try and fix it.
So I got out my seam-ripper and carefully, stitch-by-little-tiny-stitch, removed "Cassidy" all together. It worked, and it didn't mess any other part of it up like I had feared. Part one: success.
But the next part I was sure was completely impossible. To embroider the correctly spelled name without making a mistake, getting it centered correctly, while embroidering on a sphere. The needle would hardly come back out in the right spot, because of the roundness of the thing. It was hard, but I did it and if I do say so myself, it worked: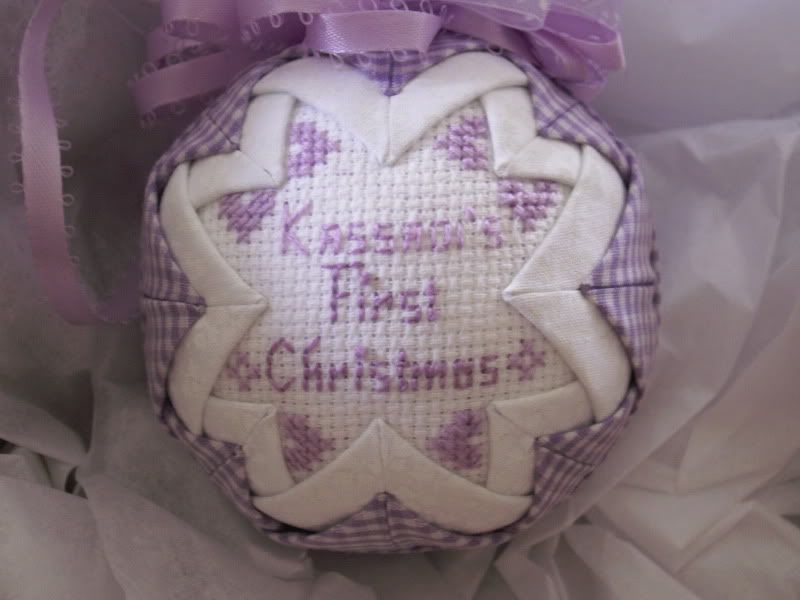 It's a little hard to see there, but it worked. I couldn't dot the "i", because I just couldn't do a french knot with it being on a sphere like that. But overall, considering it was almost trashed, I think it still worked out ok.
I was so happy. And I declared it a "Christmas Miracle"! :o)
This is the back of it: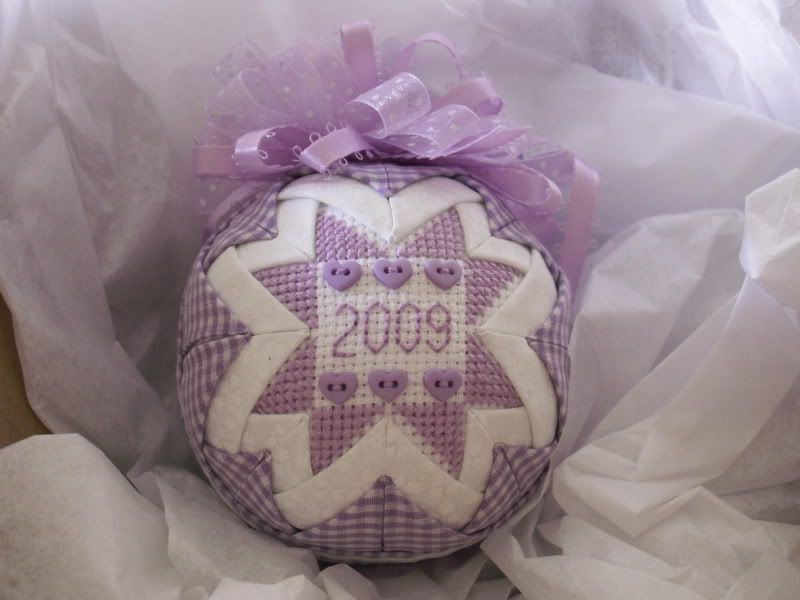 How completely cute and adorable is that? I just love it. All my friends & fam who are having babies better watch out because I'll be sending one to them all. Even if the baby isn't born at Christmastime! :o)
This is what I made for the new baby's big sister, Audrey:
This is her, saying thank you: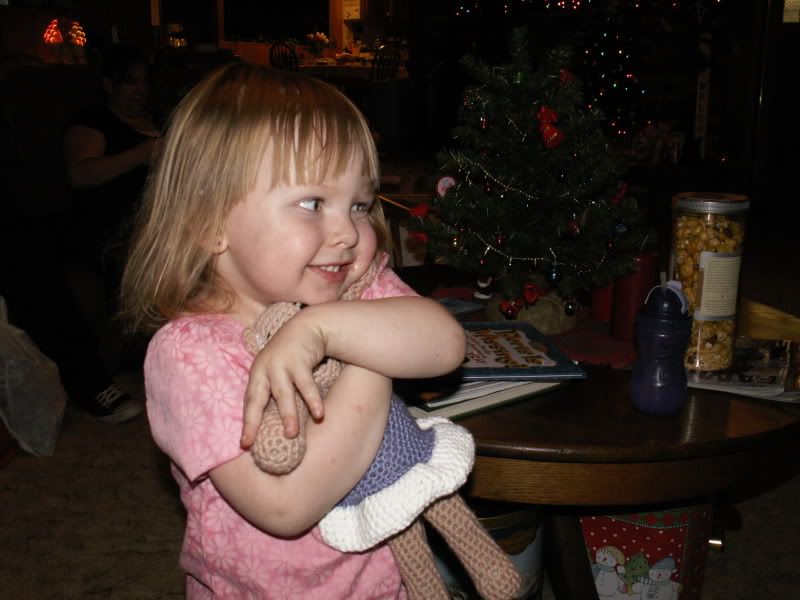 This is what I made for each of Arissa's Drill Team buddies for Christmas (they each have a nickname....I embroidered that under their names)
I made these for my belle-mere (mother in law) who has several sets of these Babushka dolls, so I made her a knitted set to go with: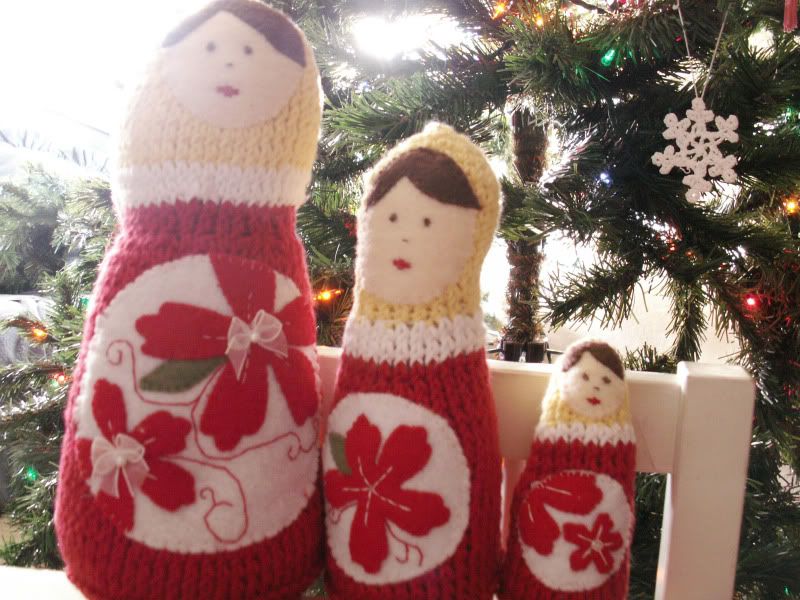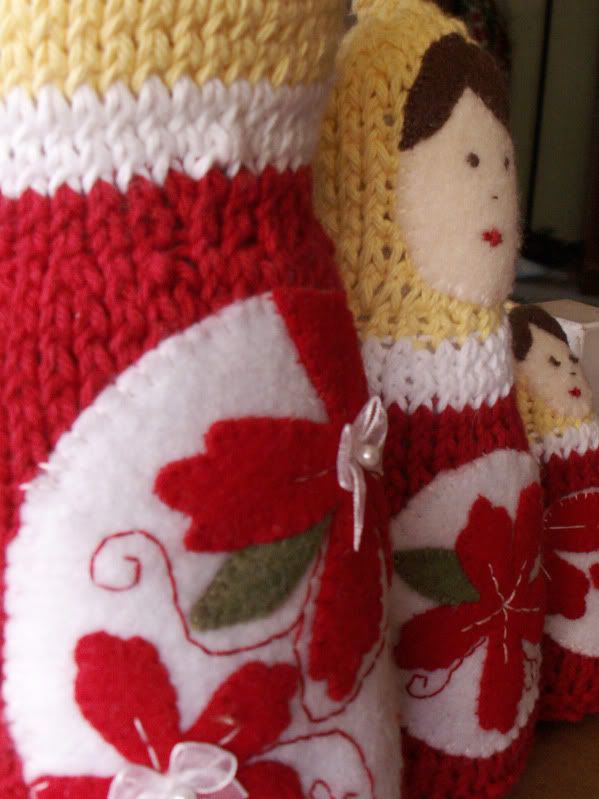 So that completes my handmade Christmas, and the story of our "Christmas Miracle". And now I can breathe a sigh of release, and my fingers can rest until I decide on what project I'm going to do next. :o)