"The attachment to expectation is a root cause of human suffering."
My second lesson in

expectation = suffering

"not having expectations = happiness" happened at the Dollar Tree.
I love Dollar Tree, it's WAY better than the .99 store. But, it's been my experience that if you go into either of those stores looking for something specific, you will not find it most of the time.
If you are throwing a luau party in June, the Dollar Tree will NOT have tiki torches or grass skirts. They'll either have random, junky stuff or nothing but Disney Princess stuff from wall to wall and you'll have to go somewhere else and pay a bunch more for stuff you'll never use again.
BUT if you're throwing a Disney Princess party and you go in there, it'll be luau central with every imagineable luau-themed party supply item you could ever think of.
HOWEVER, if you go in there assuming they will have nothing good, and figuring that you'll have to spend money on stuff at a real store where stuff costs way more than a dollar, you will find something perfectly suited for what you need......which, best of all, you didn't even know you were looking for.
The hunt for luau stuff happened to me, and then this weekend I was hunting for small/simple birthday gifts for a few friends, and teacher-appreciation gifts for the girls' teachers.
I passed by the knick-knacks and saw this little guy:
Which looks like just an ugly, tacky, weird statue of an eagle with claws that are disproportionate to his body.
But what it actually is, to me, is a perfect little gift for the girls' teachers since their school mascot is an eagle. Obviously if that thing cost $5 or $10, there's no way I would have gotten it....but for $1, it was perfect.
Other things I picked up: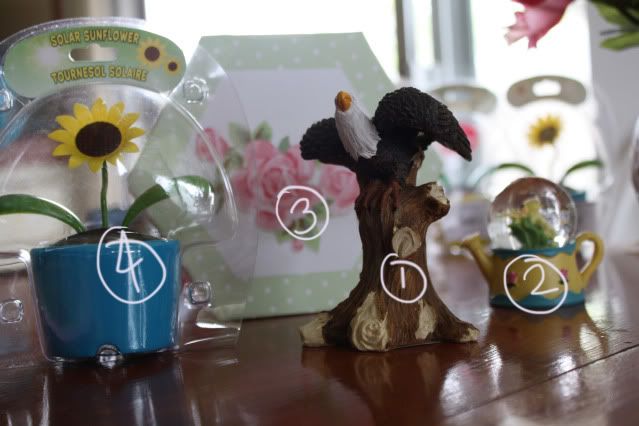 1) Mr. Eagle
2) Cute lil snowglobe, perfect for one of the bday gifts I need because it's for one of Mallory's friends' moms....not necessarily a friend of mine, but her bday is on the day of Mallory's party so I wanted to just give something as a gesture.
3) Pretty boxes to send cheesecake-stuffed strawberries in for the girls' teachers on "yummy treat day" of teacher appreciation week (Mr. Eagle is for "gift day" of teacher appreciation week).
4) Solar-powered dancing flower..I have one and it makes me happy when I see him dancing. It's for another friend who I haven't worked with in 4 years and wasn't even super close with, but her bday is the same as Mallory's so I always remember it and like to send her something small....again, just as a gesture.
I like gestures. :)
The girls' gestures to Nana & Grandma for mothers' day were from a pin I saw on Pinterest.
I almost feel bad for the recipients, because I feel like I give potted plants somehow incorporating photos a LOT as gifts. I know my grandma has a least two or three from me.
If I see a craft involving a clay pot, I must do it. :)
This is Nana's:
(Arissa's eyes look freaky there on the bottom center, but it's got to be the angle cause they look normal when you see it in person, I swear.)
For Grandma:
I
♥
that polka dotted ruffled ribbon.
Used it again for my sister-in-law's:
I was excited to do that one, because most of the pictures were ones I'd taken when we had been babysitting Abigail and I had never shown her.
I printed the pics on regular paper, cut 'em up, painted the pots white, mod-podged the photos on, then mod-podged over them to seal them. Put some foam squares in, arranged the flowers & stuck 'em in, added moss on top and then glued my pretty ribbon.
Happy Mother's Day!