M&M both performed in the school talent show this year.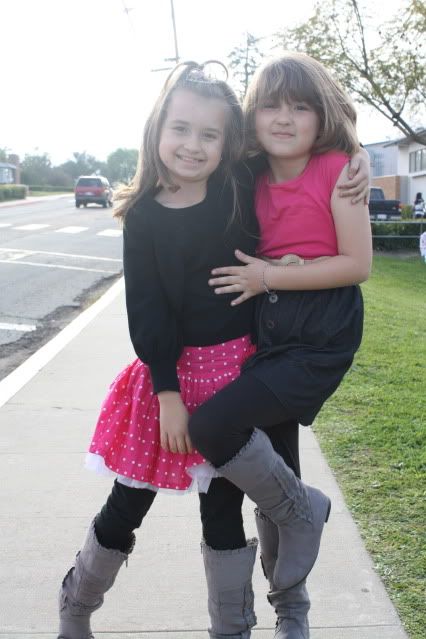 Arissa was all set to enter also, but due to circumstances beyond her control, her group fell apart at the very last second.

I felt so bad for her.

She was a trooper though, and still came to support her sisters of course. Turned out a friend of hers was in charge of lighting and had Arissa help her with that, so she was happy.




For Mariah's dance, there's a line that goes "I'm no beauty queen, I'm just beautiful me" so I thought they could go with the a beauty queen theme. I envisioned beauty pageant sashes, which are silk, and I was wondering how I could find silk that wouldn't slouch and that would look right. Then I learned that they SELL rolls of silk so all I had to do was cut and sew. The girls provided their own tiaras which was a perfect touch, and I did those silk sashes.....personalized with their names: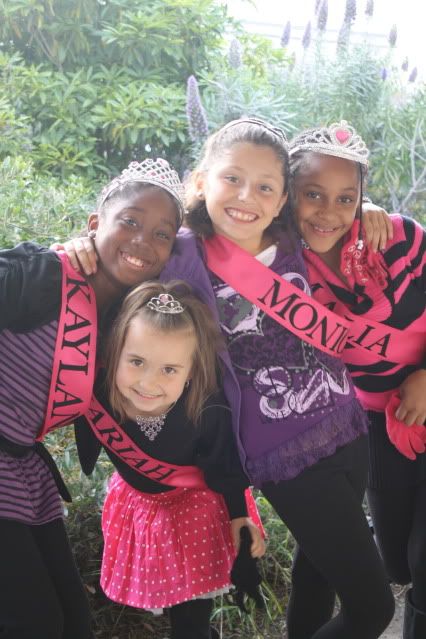 How cute are theyyyyy!




Mallory's group did "mean" by Taylor Swift......we didn't want to emphasize the "mean" part any more than necessary, so we took the fact that it's a Taylor Swift song and did a country theme. I got three of these cute cowgirl hats from the Children's Place:
Other than that the girls couldn't really coordinate clothing,, so I was stressing out because it was a performance.... "we MUST coordinate!". :)

But whatever they happened to throw on coordinated better than anything we could have planned and they looked perfect.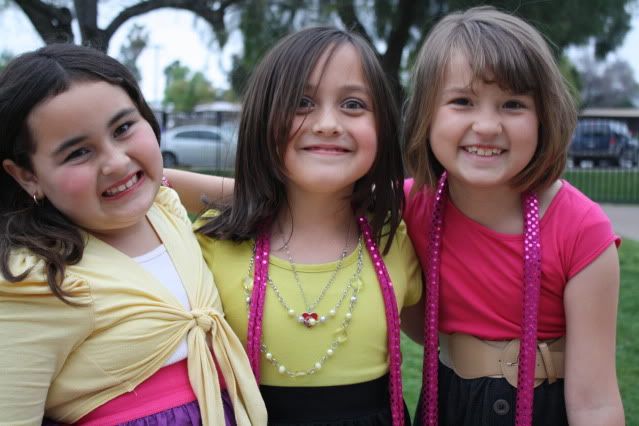 There were all these specific rules about how long the songs could be, what kind of songs they could use, blah blah blah. And we are good people, we follow rules.
So Jesse set about editing each of the songs (a total of 3, because up until the 5 minutes before try-outs, we thought Arissa was going to be in it). He had to shorten them down to 2 minutes exactly....which meant cutting out verses, choruses, blending the cuts together, speeding up the timing, etc. It was a lot of work.
Then, the rule was if you're doing a "singing" performance (like Mallory's group) as opposed to a dance performance, your song had to be the acapella version. You could not simply sing ALONG, it had to be just you and the music. We found an acapella version, but the song still needed to be cut because it had to be 2 minutes long. And it's nearly impossible to cut and paste together a song like that without the words to guide you, then on top of that to teach the girls a "remixed" version and expect them to get it right without words to sing along to......not gonna work.
So Jesse mixed an acapella version with PARTS of the original, so that there would be words thrown in randomly so the girls could still follow along.
For instance, the song goes
"You, with your words like knives
And swords and weapons that you use against me
You, have knocked me off my feet again
Got me feeling like I'm nothing
You, with your voice like nails on a chalkboard
Calling me out when I'm wounded
You, picking on the weaker man"
So we took out all the words except a "You" at the beginning of the phrase here and there so the girls could follow along. It worked out and they did perfectly.
True or False: All the other groups followed the rules too and nearly killed themselves trying to make it work.
Of course not.
It's ok though.
Just to make things MORE hectic for us, I also brought balloons for each of the girls in the groups (plus Arissa) so I had to keep track of 8 mylar balloons, keep them un-tangled to hand out at the end. One guy came up to me and thought we were selling them. Which gave me an idea for next year....